"Stunning...Lyrical...Tugs at the Heart."

SYNOPSIS
Featuring stunning footage from seven winters in the Arctic, People of a Feather takes you through time into the world of the Inuit on the Belcher Islands in Canada's Hudson Bay. Connecting past, present and future is a unique relationship with the eider duck. Eider down, the warmest feather in the world, allows both Inuit and bird to survive harsh Arctic winters.
Traditional life is juxtaposed with modern challenges as both Inuit and eiders confront changing sea ice and ocean currents disrupted by the massive hydroelectric dams powering New York and eastern North America. Inspired by Inuit ingenuity and the technology of a simple feather, the film is a call to action to implement energy solutions that work with nature.
(90 minutes)
NOW AVAILABLE WORLDWIDE ON DVD & BLURAY*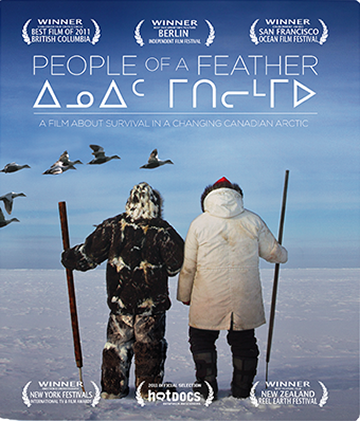 *Now available worldwide, the home DVD and Bluray include 37 minutes of behind the scenes and special features. Proceeds from People of a Feather support our charitable programs working with Inuit communities to address cumulative impacts of environmental change on sea ice ecosystems.
EDUCATIONAL LICENSE AND CURRICULUM**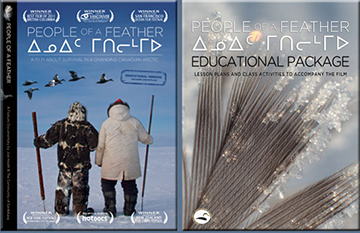 **As featured in HotDocs for Schools! Includes both 90 and 52 minute versions of People of a Feather, 34 minutes of special features, and a series of five lesson plans that further explore Inuit culture, technology, filmmaking, the ecology of sea ice ecosystems, and energy solutions that work with the seasons of our hydrological cycle. The educational license is required for libraries, schools, universities, industry, non-profits and government.
SELECTED TV SEGMENTS
SELECTED RADIO SEGMENTS:
CBC Morning Show, St. John's (*additionally programmed for recurring national feature as Winter Stories, The Story From Here
CBC Weekend Arts Magazine
TRAILER
AWARDS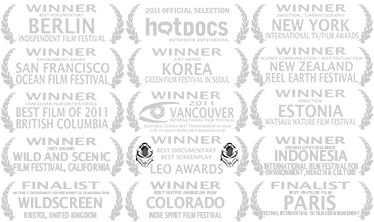 REVIEWS
"Stunning...Lyrical...Tugs at the Heart" The New York Times
"An Elemental Cinematic Tension" The Village Voice
"A Novel Perspective... A Rejection of Sensationalism" The Hollywood Reporter
"Captures moments both beautiful and brutal. Portrays the people of Sanikiluaq with sensitivity and insight" The Film Journal
"Spectacular... Gorgeous... Genius. Great filmmaking – and not just for the enviro-conscious" 4/5 Stars NOW Toronto
"For a movie that starts off talking about ducks, People of a Feather ends up negotiating nothing less than man's place, and our role, in the entire life cycle. It's an undeniably elegant feat, and one that could very well reframe the way you live the rest of your life." 4/5 Stars Katherine Monk, Postmedia News
"On en ressort avec un seul conseil: courez le voir au grand écran" 4/5 Etoiles La Presse
"Movie poetry at work.. Astounding.. Compelling.. Entertaining" 4.5/5 StarsThe Vancouver Observer
"Poetic and artistic... a near mystical mix of time-lapse Arctic landscapes, marine-life photography, and interwoven imagery of present-day and historical Inuit life." The Georgia Straight
"Painterly images... highly cinematic instances in which traditional ways collide headlong with the modern world" WE Vancouver
"A breathtaking look at Inuit life today and 100 years ago" Vancouver is Awesome
"Beautifully put together with an artistic sensibility often overlooked in the environmental documentary department" RedWire
"A crucial film. The images are allowed to speak for themselves, which they rather successfully accomplish. 4.5 of 5" PRESS+1
"Beautifully shot.. incredible images underwater.. amazing time-lapse.. gives new meaning to the word remote" Vancouver Sun
"Takes the audience on an arctic adventure for an eye opening look into the intricate symbiosis that exists between environmental change and cultural evolution" The Source
"Artful and Meditative" The Georgia Straight
UPCOMING SCREENINGS
Vancouver, BC
Museum of Vancouver, 1100 Chestnut Street
Arctic Adaptation Exhibit: Nunavut at 15
Nov 27, 2015, 7:00 PM [Film Screening]
Dec 3, 2015, 7:00 PM [Seminar by Director Dr. Joel Heath]
Litchfield, CT
White Memorial Foundation
80 Whitehall Rd, Litchfield
Dec 26, 2015, 2:00 PM
Litchfield, CT
White Memorial Foundation
80 Whitehall Rd, Litchfield
Dec 26, 2015, 2:00 PM
London, UK
We the Peoples Film Festival
BPP University, 137 Stramford St.
April 23, 2014 @6PM
London, UK
We the Peoples Film Festival
BPP University, 137 Stramford St.
April 23, 2014 @6PM
RECENT SCREENINGS
Athens, OH
Athena Cinema
April 24th 2014 @7PM
Woods Hole, Cape Cod
Woods Hole Community Hall
April 26, 2014 @8PM
Pennsylvania
Penn State University Park (Freeman Auditorium @HUB)
April 19 2014 1:45pm
Oakland, CA
Humanist Hall
390 27th St. (btwn. Telegraph/Broadway)
April 16, 2014 @7:30PM
HARTFORD, CT
Wadsworth Atheneum Museum of Art
April 12 & 13, 2014 @ 4:00 pm – 5:45 pm
Sept-Îles, QC (en Francais)
Le Ciné-Club de Sept-Îles
8 avril 2014
St. Johnsbury, VT
Catamounts Arts Center
April 5 & 6, 2014
Toronto, ON
Koffler House Room 108, 569 Spadina Cres
March 24, 2014
MISSOULA, MT
The Roxy Theatre
MARCH 12, 7:00 PM
WAKEFIELD, QUEBEC
Wakefield International Film Festival
March 8-9, 2014 @6:00PM
HONOLULU, HI
Movie Museum
March 6 & 9,2014
THE PLAZA THEATRE, CALGARY
Hosted by Adventure Canada
Feb 28, 2014 @6:00PM
DURANGO - COLORADO
Durango Film Festival
Feb 27th, 2014 @7:00 PM
March 1st, 2014 @9:00 AM
BLOOR CINEMA, TORONTO
Feb 25, 2014 @6:45PM
REVUE CINEMA, TORONTO
Hosted by Adventure Canada
THUR Feb 13, 2014 @6:00PM
NEW DELHI, INDIA
CMS Vatavaran - Intl. Environment & Wildlife Film Festival
*Nominated* Biodiversity International Award
FRI Jan 31, 2014 @11:30AM
NEW YORK CITY, NY
QUAD CINEMA - Back by Popular Demand!
Nov 8th-14th, 2013
Nov 29th-Dec 5th, 2013
Daily 1:00 | 3:00 | 5:15 | 7:15 | 9:30
ST-JEAN-PORT-JOLI, QC
CINÉ-CLUB L'IMAGINAIRE Salle Gerard-Ouellet
Nov. 30, 2013 @20:30, Dec. 3&4, 2013 @19:30
NELSON, BC
CIVIC THEATRE
Wed. Nov 20, 2013 @7:30PM


NORTH HOBART TASMANIA, AUSTRALIA
STATE CINEMA
Thur. Dec 5, 2013 @6:00PM
GOLDEN & BOULDER, CO
DocuWest Film Festival
Sept. 14th, 2013
@1:10PM (Golden: Amer. Mountaineering Centre)
@4:00PM (Boulder: Boedecker Theatre)
NEW RICHMOND, QC
Ciné Bobine
Sept. 18th, 2013 @20:00
VANCOUVER, BC
Norm Theatre, UBC (Polar Film Series)
Sept. 24th, 2013 @6:30PM
With Panel Discussion! (Director Joel Heath, Larry Grant (Elder in Residence), Eric Solomon (Vancouver Aquarium), Frank Tester (UBC Social Work), Philippe Tortell (Earth and Ocean Science)
COLORADO SPRINGS, CO
Indie Spirit Film Festival
Oct. 3-6th, 2013 (TBA)
PALO ALTO, CA (Aquarius Theatre)
United Nations Association Film Festival
Oct 18th, 2013 @3:30PM
BRAZIL - 2013 TOUR!
Ecofalante Environmental Film Festival: On Tour
Santos: Cine Roxy-Wed, Oct 9 @21h00
Piracicaba: Salão de Humor, Tue, Oct 15 @21h00
Bauru: SESC, Tue, Oct 29 @20h30
Campinas: SESC, Tue, Oct 29 @20h00
Araraquara: SESC, Tue, Oct 29 @20h00
Ribeirão Preto: SESC, Sun 3&11 @16h00
Presidente Prudente: SESC, Thu Oct 31 @19h00
Eckernförde, Germany
Greenscreen Film Festival
Sept. 6, 2013
JAKARTA, INDONESIA
International Film Festival of Environment, Health & Culture
(WINNER: Award of Excellence)
July 4th @13:35 - Institut Français d'Indonésie
ORILLIA, ONTARIO
Lakehead Univeristy - Summer of Sustainability
July 23rd @7:00 PM
OTTAWA, ONTARIO
ASINABAKA FILM FESTIVAL - Club SAW
July 27th @7:00 PM
TROIS-PISTOLES, QC
Festival Échofête - Forge à Bérubé
Thurs, Aug 1st, 2013 @19h
YELLOWKNIFE, NT
Northern United Place Auditorium
MAY 2, 2013 7:30PM
RIMOUSKI, QUEBEC
Cinéma Paraloeil(en Français)
May 9th, 2013
VIENNA, AUSTRIA
Ethnocineca (Opening Night)
MAY 14th, 2013
SAO PAULO, BRAZIL
Ecofalante Film Festival
MAY 25 & 27, 2013
SIDNEY, BC
Shaw Ocean Discovery Centre
FRI MAY 31st, 2013 7:00PM
QUEBEC CITY, QUEBEC
Cinéma Cartier (en Français)
Feb 1-21st 2013
BERLIN, GERMANY
BERLIN INDEPEDENT FILM FESTIVAL
WINNER - BEST FEATURE DOCUMENTARY!
Feb 9-17th 2013
YKIFF ROAD TOUR, NORTHWEST TERRITORIES
NORMAN WELLS - FEB 12, 2013
FORT SMITH - FEB 15, 2013
FORT SIMPSON - FEB 23/24, 2013
INUVIK - FEB 28, 2013
BEHCHOKO - TBA
CORNER BROOK, NEWFOUNDLAND
TBA Feb 25th
CARBONDALE, ILLINOIS
FEB 27th 2013 6:30PM
Director in Attendance
BURLINGTON, ONTARIO
BURLINGTON GREEN FILM FESTIVAL
March 22nd, 2013
WATERLOO, ONTARIO
World Water Day
March 22nd, 2013
Director in Attendance
GREAT BARRINGTON, MA
Project Native Film Festival
April 7th, 2013
IQALUIT, NUNAVUT
Astro Theatre
Sunday Matinee 2:30PM Feb 10th 2013
MISSOULA, MONTANA
Big Sky Documentary Film Festival
11:45AM Feb 17th 2013
STEPHENVILLE, NEWFOUNDLAND
Arts and Culture Centre
FEB 16th, 7:00PM
GANDER, NEWFOUNDLAND
Arts and Culture Centre
FEB 17th, 2:30 PM
MOUNT PEARL, NEWFOUNDLAND
Empire Theatres Mount Pearl Square
Jan 18-24th, 2013 (7, 9:15 +weekend matinee)
NUNAVUT SCREENINGS Igloolik, Pond Inlet, Clyde River, Pangnirtung, Arctic Bay and Iqaluit
JAN 18-31st, 2013
PETERBOROUGH, ONTARIO
REFRAME PETERBOROUGH INTERNATIONAL FILM FESTIVAL
Jan 25th, 2013
VICTORIA, BC
Movie Monday
MON, Jan 28th, 6:30pm
LABRADOR CITY, LABRADOR
Arts and Culture Centre
Jan 29th, 7:30pm
ST. JOHN'S, NEWFOUNDLAND
Empire Theatres Avalon Mall
Jan 7-10th, 2013 (1, 3:15, 7, 9:15)
CORNER BROOK, NEWFOUNDLAND
College of the North Atlantic, Room 1008
Jan 10th, 7PM
HAPPY VALLEY-GOOSE BAY, LABRADOR
O'Brien Arts Centre
Jan 10th & 11th, 8PM
NEVADA CITY, CALIFORNIA
Wild and Scenic Film Festival
Jan 12th & 13th, 2013
NEW YORK, NY
Explorers Club, Polar Film Festival
Dec 2nd, 2012
ANCHORAGE, ALASKA
Anchorage International Film Festival (In Competition)
Sat Dec 1st, Sat Dec 8th
Lavaltrie, Quebec (Café Cine)
Dec 2, 2012 (Francais)
BRISTOL, UK
Wildscreen Film Festival, In Competition
Nature Conservancy Environment and Conservation Award
Oct 14-19, 2012
LIBERTY SCIENCE CENTRE, NJ
Imagine Science Film Festival
Nov 11, 2012
NEW HAMPSHIRE
Colby Sawyer College
Oct 23, 2012 7PM - Clements Hall (Q&A w/Director)
QUEBEC
Sutton (CINÉ-CABARET)
Oct 25, 2012
WEST VIRGINIA
American Conservation Film Festival
Nov 1-4, 2012 (TBA)
QUEBEC
Gaspé (Cinelune)
Nov 06-07, 2012
Dawson College, Westmount QC
Nov 8th, 2012
MINNESOTA
Arctic Film Festival, North House Folk School
November 14-18, 2012 Grand Marais


QUEBEC
L'Assomption (Cine-club)
Nov 19, 2012
Ste-Genevieve
Nov 26, 2012
KELOWNA, BC
Fresh Outlook Foundation - Reel Change Sustainability Film Festival
Nov 23, 2012
QUEBEC, Val-Morin (Theatre du Marais)
Oct 04, 2012
VANCOUVER, BC
Musequeam First Nation UBC Screening
Oct 10th
QUEBEC, Vaudreuil-Dorion (La Boîte Lumineuse)
September 24
Korean International Documentary Festival - DMZDOCS
Sept 21-27, 2012
THUNDER BAY, ON
Biindigaate Indigenous Film Festival
Sept 27-30, 2012
YELLOWKNIFE, NWT
Yellowknife International Film Festival
FRI, Sept 28th @7:00PM (Q&A with Director)
SEATTLE, WA
Local Images, North West Film Forum
Sept 30
ESTONIA, Matsalu Nature Film Festival
Winner! Best Direction
Sept 15th, 11:00
WYOMING, Grand Teton National Park
Sept. 15
CALIFORNIA, St. Helena Public Library
Sept 20th
FILM AMBIENTE, RIO DE JANEIRO, BRAZIL
Sept 1st, 2012
NORTH AMERICAN ORNITHOLOGICAL CONGRESS, VANCOUVER BC
August 15th, 2012
GIMLI FILM FESTIVAL, GIMLI MANITOBA
July 25-29th, 2012 [Dates TBA]
GREAT NORTHERN ARTS FESTIVAL, INUVIK
July 16, 2012 [8:30pm]
ADAKA CULTURAL FESTIVAL, WHITEHORSE NWT
MON June 25, 2012, 5:00pm
ENVIRONMENTAL FILM FESTIVAL BIARRITZ, FRANCE
June 22, 2012
SHANGHAI INTERNATIONAL FILM FESTIVAL
June 21, 2012
RIO THEATRE, VANCOUVER BC
June 9th & 10th, 7pm and 9pm
EXTRA SCREENINGS ADDED
MON June 18th, 7pm and 9pm (Cheap night!)
MONTREAL, QC
April 27th-May 10th, 2012 Cinema du Parc
WATERLOO, ON
MAY 6-10th, Princess Theatres, Canada Film Days
PALMERSTON NORTH, NEW ZEALAND
SAT May 12th, 8:00PM - Reel Earth Film Festival
WINNER: BEST FEATURE FILM & SCIENCE COMMUNICATION AWARD
SEOUL, KOREA
Green Film Festival in Seoul
WINNER: BEST FEATURE FILM JURY AWARD
TORONTO, ON
FRI Apr 20 - TUE Apr 24th, Bloor Cinema
OTTAWA, ON
April 20th-22nd & 25th-26th 2012 Mayfair Theatre
MONTREAL, QC
APR 24th, 7:00 IPY Polar Film Festival, Imperial Theatre

SASKATOON ENVIRONMENTAL FILM FESTIVAL
APR 22nd, 4:00PM Roxy Theatre
VANCOUVER, BC
March 2nd-5th, Vancity Theater
March 6th-9th, Denman Cinema
March 17th & 18th, RIO Theatre 3pm Matinees
Mar 30th - Apr 5th, 5th Avenue Cinemas

VICTORIA, BC
March 2nd-5th, Cinecenta Theater
FRI Mar 30th - THR Apr 12th, Empire Theatres Capitol 6

SANIKILUAQ, NU
SAT March 24th, 8:30
WINNIPEG, MB
WED Apr 4th - THR Apr 5th, Winnipeg Film Group
WASHINGTON, DC
SAT March 17th, 2:00 PM - SMITHSONIAN
CLEVELAND,OH
TUE Mar 27th & WED Mar 28th
Cleveland International Film Festival
SALTSPRING ISLAND, BC
SUN March 4th, Saltspring Film Festival
EDMONTON, AB
SUN March 4th, Global Visions Film Festival


ANTIGONISH, NS
MON March 12, 7:00PM @ Empire Theaters
WOLFVILLE, NS
WED March 14, 7:00PM, Al Whittle Theater
HALIFAX, NS
THR March 15, 7:00 PM Ecology Action Centre
SAN FRANCISCO, CA
WINNER! Environment Award
SAT, March 10th San Francisco Ocean Film Festival
PARIS
International Environmental Film Festival
Feb 8&9, Cinéma des Cinéastes
VANCOUVER, BC
Vancouver International Film Festival
WINNER! Best Environmental Film / Top 10 Canadian Films
Oct 3rd, 5th, 9th, 14th Empire Theatres
TORONTO, ON
HOTDOCS International Film Festival
World Premiere! Programmers Pick
May 5th, 7th, 8th, 2011